Klein Blatt
Provinciestraat 206, 2018 Antwerpen, Belgium
104
Listing verified by admin as genuine
De geschiedenis van bakkerij Kleinblatt gaat terug tot 1903.
In dat jaar openen Jacob Kleinblatt en zijn echtgenote Rifka Rosenfeld een bakkerij in Krakau, Polen. Het echtpaar Kleinblatt, overgrootouders van de huidige zaakvoerders, krijgt 6 kinderen: 3 zonen en 3 dochters.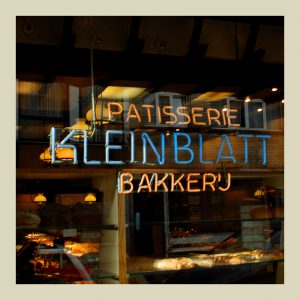 In de vroege jaren '20 migreren de drie zonen Hirsch, Moishe en Abraham naar Antwerpen. Hirsch Kleinblatt en zijn echtgenote Regina openen er een bakkerij aan de Wipstraat 11. De broers Moishe en Abraham kiezen in eerste instantie voor de diamantsector. Maar na de beurscrash in 1929 komen de broers ook in de bakkerij werken. Gelukkig gaan de zaken daar wél goed. In die mate dat de bakkerij in 1931 verhuist naar de Provinciestraat 206 in Antwerpen, waar zij vandaag nog gevestigd is.
kleinblatt
Reviews
There are no reviews yet, why not be the first?