Klein Blatt
Provinciestraat 206, 2018 Antwerpen, Belgium
177
Listing verified by admin as genuine
The history of bakery Kleinblatt goes back to 1903.In that year Jacob Kleinblatt and his wife Rifka Rosenfeld open a bakery in Krakow, Poland. The Kleinblatt couple, great-grandparents of the current managers, have 6 children: 3 sons and 3 daughters.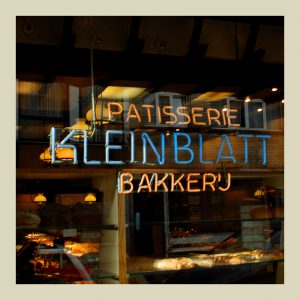 In the early 1920s, the three sons Hirsch, Moishe and Abraham migrate to Antwerp. Hirsch Kleinblatt and his wife Regina open a bakery on the Wipstraat 11. The brothers Moishe and Abraham first opt for the diamond sector. But after the stock market crash in 1929, the brothers also started working in the bakery. Fortunately things are going well there. To the extent that the bakery moves to Provinciestraat 206 in Antwerp in 1931, where it is still located today.
kleinblatt
Reviews
There are no reviews yet, why not be the first?